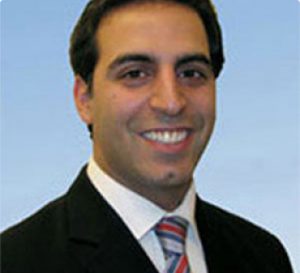 Dr. Daniel Nejat is a board-certified periodontist and a Diplomate of the American Board of Periodontology. As one of the leading NYC periodontists, he has made significant achievements beyond the educational requirements of the specialty. Dr. Nejat maintains his private practice in Manhattan.
Dr. Daniel Nejat graduated magna cum laude with a degree in Bachelor of Arts from Drew University. He continued his education at the University of Medicine and Dentistry of New Jersey Dental School, where he was honored with the UMDNJ-NJDS Academic Scholarship, received his Doctorate of Dental Medicine, and was presented with an award in the Excellence in Oral Pathology.
After completing dental school, Dr. Daniel Nejat continued his training at New York University School of Dentistry for an additional 3 years post-graduate training in periodontics. During his training, he mastered the art and science of periodontics and implantology from some of the best periodontists in the country.
Through an educational grant from Colgate, Dr. Daniel Nejat has also published two continuing education articles: "Periodontal Inflammation: The Oral Body Connection" and "Controlling the Intraoral Environment Before and After Implant Therapy". These are peer-reviewed publications that were designed to help dentists, physicians, dental hygienists and dental assistants understand the relationship between periodontal disease and its systemic influence as well as how to maintain newly placed dental implants.
Dr. Daniel Nejat has given presentations at the Greater New York Dental Meeting, the Northeastern Society of Periodontists, and the Metropolitan Periodontal Symposium about the benefits and techniques involved in minimally invasive periodontal and implant surgery with the use of computer guided dental implant technology.
Dr. Daniel Nejat is a member of the American Academy of Periodontology, the Northeastern Society of Periodontists, the American Board of Periodontology, the Academy of Osseointegration, and the New York Dental Society.
Dr. Daniel Nejat practices with the philosophy of a conservative, minimally invasive and gentle approach in treating his patients. He also believes in educating patients about their dental needs and good oral hygiene, as maintenance of their teeth and implants are vital for a successful long term periodontal and implant treatment. Dr. Nejat's calm and smooth chair-side manner is known to relax his NYC dental implants patients and make them feel at ease when it is time to receive dental therapy.
In his spare time, Dr. Daniel Nejat enjoys playing racquetball, jogging, reading, photography, and taking long walks.
Dr. Nejat is board certified by the American Board of Periodontology.
---