Another option to replace a single tooth is a resin-bonded bridge, known as a Bonded Bridge or a Maryland Bridge. To place a bonded bridge, a high-speed drill is used to cut into the back of the neighboring teeth. A prosthesis is then added to the back of your natural teeth. The prosthesis fills the visible space of the missing tooth, but with the absence of the natural tooth root, the bone above the crown begins to shrink. Everyday biting forces will also begin to apply opposing pressures that will loosen the bond over time.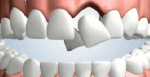 Metal wings are bonded/cemented to the adjacent teeth
Offers a great temporary solution
Has a poor long-term success (metal wings can loosen and de-bond off the teeth)
Does not work well in the posterior (back) teeth
While some may feel that a resin bonded prosthesis (Maryland bridge) is a viable option for single tooth replacement, clinical experience has shown that these resin bonded pontics do not have a good long term track record if the teeth are not prepared aggressively enough for mechanical retention.
Today, the two most common treatment options for single tooth replacement are the fixed partial denture (three unit bridge) and the single tooth implant.
Compare all single tooth replacement treatment options »
Today, a better teeth replacement option exists – the dental implants treatment. This procedure does not require aggressive preparation of the adjacent teeth, and it does not cause weakening of previously healthy teeth. In addition, the dental implants procedure can stop bone loss and improve the strength and functionality of your bite. If you would like to learn whether you are a dental implants New York / New Jersey candidate, please schedule a personal consultation with one of our talented dentists by calling us today or clicking here to request a free consultation.
Advanced Periodontics & Implant Dentistry's oral surgeons perform sophisticated dental implants and gum disease treatments. If you would like to consult with a highly experienced New York / New Jersey periodontist, please call our offices to schedule a personal appointment.