Same Day Teeth
"I never thought at the age of 40, I would have all my teeth removed and wear dentures. With Teeth in an Hour™, I was able to smile again with my new teeth."
Teeth in an Hour™
Letting my teeth fall apart happened so fast, and I refused to have dentures. Smile in a Day™ was a great alternative, and I can't believe how fast and easy it was. I can't believe I didn't do this sooner!"
Smile in a Day™
Letting my teeth fall apart happened so fast, and I refused to have dentures. Smile in a Day™ was a great alternative, and I can't believe how fast and easy it was. I can't believe I didn't do this sooner!"
Dental Implants Specialists in New York City, New Jersey, and Long Island
Dr. Richard Nejat, Dr. Eugenie Lee, and Dr. Daniel Nejat are highly experienced New York City dental implant providers who have helped thousands of patients restore strong and healthy teeth. Whether you are missing one tooth or suffer from loss of all your teeth, the talented dentists of Advanced Periodontics & Implant Dentistry can help you achieve a beautiful smile. They perform advanced restorative techniques that deliver fast results, such as the sophisticated Teeth-in-an-Hour and Smile-in-a-Day™ treatments. As board-certified Periodontists, they also offer an array of gum treatments such as, laser gum surgery, laser gum depigmentation, and gummy smile correction.
Teeth in an Hour™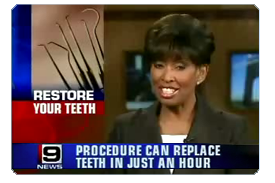 Teeth in an Hour is an innovative procedure that replaces your missing teeth in just one visit. Watch Dr. Richard Nejat demonstrate Teeth-in-an-Hour on Channel 9 News.
Allon4™
If you've been told you need dentures to replace your teeth, ask again. The All on Four™(also known as Allon4™) procedure has revolutionized teeth replacement, making dentures a thing of the past. More about Allon4™ »
Our Patients | Before & After Photos
Dental Implants to Craft Your Unique Smile
Simply put, our dentists do not believe in a "one-size-fits-all" solution to missing or damaged teeth. Instead, they specialize in creating customized dental treatment plans to address the unique needs of each individual patient. Whether you have one or several missing teeth, your dental implants will be crafted to look, feel, and function like your natural teeth, restoring your ability to eat, speak and smile comfortably again. Our dental implant options include:
Comprehensive Periodontal Care
Approximately 50 percent of all adults have some type of periodontal disease (gum disease). Because early stages of periodontal disease typically do not have visible symptoms, regular dental visits are crucial to early detection and effective treatment. Our board-certified Periodontists have years of collective experience diagnosing and treating all stages of periodontal disease and other issues that affect the gums, bone, and periodontal ligaments that support the teeth. Our periodontal services include:
Scaling and Root Planing
Flap/Osseous Surgery
Guided Tissue Regeneration (GTR)
Whether you are in the early stages or later stages of periodontal disease
or want to prevent it from developing in the first place — our trained and experienced Periodontists are here to help.
Cutting-Edge Dental Technology
Our state-of-the-art dental facility is fully equipped with the latest and most advanced technology in dental implant and periodontal care. Among the most innovative treatments we offer are digital X-rays, computer-guided implant surgery, and laser dentistry, which make for enhanced precision and accuracy in diagnosing and treating an array of dental issues. Treatment is quicker, more comfortable, and above all else, safer than ever before.
Get Started on a Healthier, Brighter Smile
If you would like to learn how dental implants can help you turn your cracked, chipped, discolored, or missing teeth into an attractive smile, schedule a personal appointment at Advanced Periodontics & Implant Dentistry. You can set up your appointment with one of our talented NY / NJ dental implants providers — Dr. Richard Nejat, Dr. Eugenie Lee, or Dr. Daniel Nejat — by clicking here or calling now.