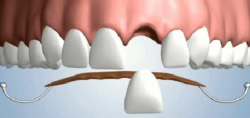 Removable partial denture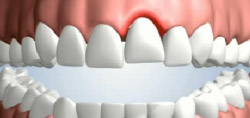 Removable partial denture is unstable and causes irritation
If you have lost a single tooth, you have various tooth replacement options to consider. One option would be a removable, single tooth partial denture. However, most patients are not satisfied with this alternative due to the bulk of metal and acrylic and the unsightly clasps necessary to stabilize the prosthesis.
A major consequence of this option is the bone loss that occurs due to the absence of the natural tooth root. Biting forces will cause the partial to move and shift because its design lacks a secure connection. Many partial denture wearers may also experience discomfort and gum irritation.
Today, the two most common treatment options for tooth replacement are the fixed partial denture (three unit bridge) and the single tooth implant. Because a tooth implant provides a stable, natural-looking solution and helps protect the jaw bone, our New Jersey / New York dental implant therapy providers recommend this treatment to their patients. If you would like to learn more about your dental implant options, please schedule a personal consultation by calling us or clicking here to request a free consultation.
Compare all single tooth replacement treatment options »
In addition to offering a number of dental implant procedures, the exceptionally gifted dentists of Advanced Periodontics & Implant Dentistry also perform sophisticated treatments for the gums, such as laser gum surgery and gummy smile correction. If you would like to improve the health or appearance of your gums, please schedule a personal consultation with one of our NYC / NJ periodontists.