Dr. Richard Nejat and Dr. Daniel Nejat are two of the most accomplished dental implant providers in New York City. Over the years, they have helped numerous patients replace a single, several or all missing teeth with dental implants and implant-supported structures. Read on to learn why the talented dentists of Advanced Periodontics & Implant Dentistry recommend implants over teeth-supported bridges. If you would like to learn whether you are a dental implants Long Island / New York City candidate, please schedule a consultation by calling our offices or contacting us here to request your free consultation.
Another option to replace several missing teeth is a tooth-supported fixed bridge. To place a bridge, the teeth adjacent to the missing teeth are shaved down with a high-speed drill. This shaving down prepares the teeth to support and fit a bridge that is then cemented in place over the teeth. The bridge unit/s will fill in the gaps of all missing teeth. However, as there is no replacement for the missing tooth root/s, the bone beneath the bridge will continue to shrink. Plaque can easily build up below the margins of the crowns, and moderate to severe bone loss can occur rapidly. Because they have been shaved down, the bridge's neighboring teeth lack adequate tooth structure. This means not only that they are weaker, but also that they are more susceptible to decay. Tooth decay can quickly lead to root canals, and root canals often eventually cause further tooth loss.
Tooth Supported Bridge
Tooth Supported Bridge Placement
Procedure to Place a Tooth Supported Bridge
Treatment Steps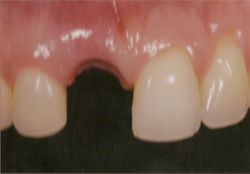 Before Treatment
Before Worn & Discolored bridges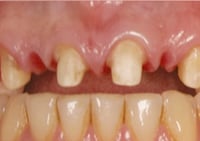 Step 1
Prepared adjacent teeth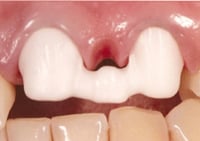 Step 2
Try-in on left quadrant
Disadvantagesof a Tooth-Supported Bridge
Extra forces are placed on the supporting teeth
Must grind or shave the supporting teeth
Possible need for a root canal
Risk for decay under the bridge
Not able to floss the bridge (must use other aids)
Lack of stimulation of bone leads to jaw bone defects
Compare all multiple teeth replacement treatment options »
Besides performing state-of-the-art dental implants procedures, the dentists of Advanced Periodontics & Implant Dentistry also offer a wealth of sophisticated procedures for the gums. If you would like to learn how you can improve the health and appearance of your gums, please schedule an appointment with one of our highly educated NYC periodontists.