Securely Snap on Your Dentures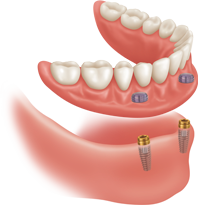 The Boomer generation is now becoming the fastest growing population in the US. Over the last decade alone, the over 65 population has more than tripled, and will continue to grow exponentially in the coming years. Statistically, 26% of these individuals will lose their teeth at some point during their elder years: a common problem. A common solution they are offered to replace their teeth is a word no one wants to hear: dentures.
Removable dentures used to be the standard care of replacing teeth. However, major short- comings and problems exist with them:
They are uncomfortable.
They are unstable
They are sloppy
They are too big for the mouth
Sore spots are common in the mouth
They cause additional bone loss

They cause difficulty in chewing and tasting food
They cause difficulty in speaking
They increase age appearance
They need to be relined or replaced frequently
They reduce self-esteem
The quality of life is poor
A sizable percentage of individuals missing teeth do not even bother wearing dentures unless they go out in public. However, something affordable can be done to improve the stability and comfort of your dentures: Mini-implants.
What are Mini Dental Implants?

Mini dental implants are narrow diameter biocompatible titanium alloy implant screws, conceived and designed over 20 years ago. The mini implants were originally used to support fixed bridge replacements for lost teeth. Thereafter, they have been used to stabilize dentures, in particular the lower dentures.
The advantages of mini implants over traditional implants is that they can be placed in a narrow jaw or in a jaw where bone grafting would be needed. This will make treatment much more affordable and the procedure more comfortable since smaller or no incisions will be needed to place these mini implants.
Which Type of Mini Dental Implant is Right for You?

Unlike normal dental implants, it does make a difference which type of mini-implant used to stabilize your denture. The current and most commonly used mini implant is a single narrow implant screw with a round top called an O-ring. When this type of mini-implant is used, 4 of them are necessary to stabilize the denture. These mini implants are helpful in stabilizing the denture, but have many shortcomings:
1. These mini implants are attached immediately to the denture. However, no time is given for the bone to heal and integrate around these mini implants. This causes many of them fail frequently and require replacement, which adds to additional cost.
2. The housing of the O-ring is too thick causing the denture to be thinner and more susceptible to fracture
3. The housing of the O-ring wears out too quickly and need frequent replacement which adds additional cost.
4. The quality of the titanium is random and usually a poorer grade.
5. O-ring attachment give less retention and stability of the denture. This can cause more food impaction underneath the denture.
6. Should retention of the denture decrease, it is not possible to upgrade the retention with the same mini implant.
Fortunately a new and improved mini implant can be used. A minimum of 2 of them are needed and it uses a special patented locator to stabilize the denture. The following are other advantages of this mini-implant:


1. This two piece mini implant is the first and only one of its kind. By being two pieces, it can allow the bone to integrate and fuse to the implant. As a result, the success rate of loading these implants are much higher.
2. The housing for the implant, which is called a locator, is not as thick as the O-ring of the other mini-implant. Therefore the denture is less likely to fracture.
3. Fewer implants are needed to stabilize the denture. This reduces cost.
4. The locator does not wear out quickly. This also reduces cost.
5. Better quality titanium than current mini implants. These don't fracture as easily.
6. Gives greater retention than the other mini implant. Less food gets trapped underneath the denture.
7. Retention can be upgraded if necessary. No more redo's of mini implants.
This new mini-implant functions the same as a normal implant. The only difference is that it is a much more affordable solution and fits where the bone is thinner. Therefore the surgery to place them can be minimally invasive with no additional costly bone grafts.
More Questions? Visit our Mini Dental Implants FAQ page, or give us a call and schedule a free consultation. We are happy to answer any questions you have.