Here at Advanced Periodontics & Implant Dentistry, we understand the frustration that goes along with missing teeth. That is why our first priority is to find the optimal tooth replacement solution for our patients. Every tooth is essential in sustaining proper alignment; any free space, due to one or more missing teeth, can cause complications in speech, bite, and face shape.
There are several treatment options to consider when dealing with missing teeth. Two common options include dental bridges and dentures. When deciding between dental bridges and dentures, it is important to consider how either will affect your remaining teeth.  Both are utilized to accomplish the following:
Prevent teeth from shifting
Improve the ability to speak and chew
Depending on the severity and structure of your teeth, both dental bridges and dentures function differently and require a particular way of handling. Considering these differences is an important factor when deciding which option is best for you. Here at Advanced Periodontics & Implant Dentistry, we care for our patients and want to provide you with the most effective treatment option.
What is a Dental Bridge?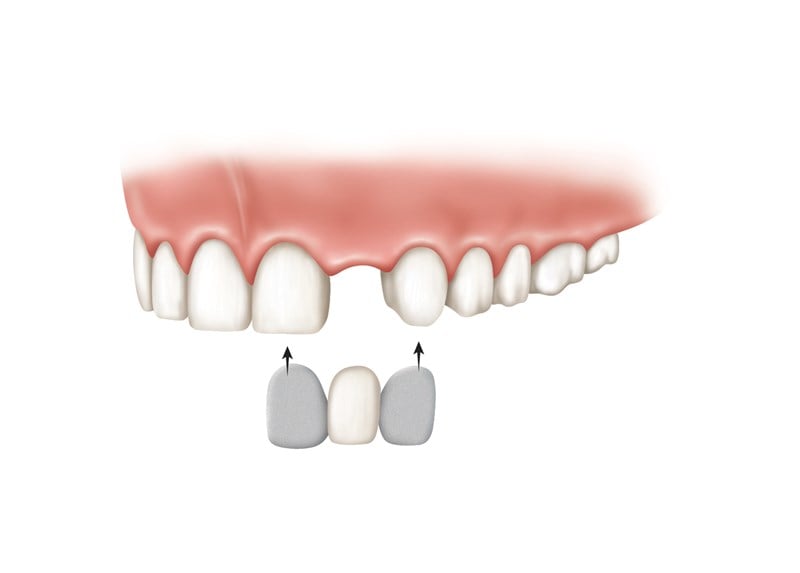 A missing tooth is a serious matter, and a dental bridge is a popular treatment option. A dental bridge is a permanent dental fixture that replaces any free space where one or more teeth are missing. They are designed to be permanent by cementing or bonding the artificial tooth fixture to the natural surrounding teeth, teeth that were prepared with crowns, or implants that are near the space.
Some may feel that a dental bridge is a viable treatment option, however, there are several disadvantages that coincide with them. Some disadvantages of dental bridges include:
Extra applied force on the supporting teeth
Risk for decay under the dental bridge fixture
Must grind or shave the surrounding teeth to insert the dental bridge
What is a Denture?
A denture is similar to a dental bridge in that they both have the same function, however, dentures have the accessibility to be removed. There are also two different options of dentures depending on the amount of missing teeth. These two options include: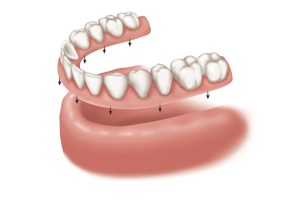 Complete dentures. Complete dentures are used to replace an entire set of teeth, either top set, bottom set, or both. With complete dentures a pink, gum-colored acrylic base with replacement teeth is placed over the entire gum region. There is also the option of having conventional or immediate dentures. Conventional dentures are made after the teeth have been removed and the gum has begun to heal. A conventional denture can placed 12 weeks after the teeth have been extracted. Immediate dentures can be made in advance and can be placed immediately after the teeth have been extracted.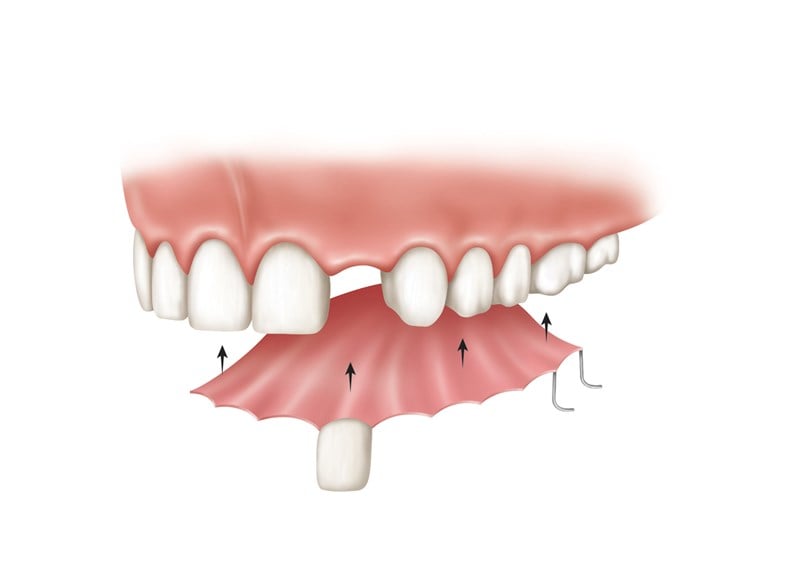 Partial dentures. Partial dentures are normally used when there are only one or more teeth present in the upper or lower jaw.  They consist of replacement teeth that are attached by a gum-like plastic base that holds the denture in place.
There are some disadvantages to using dentures. Removable dentures are not a stable option. There is no secure connection to the jaw, and without connection to the root, the jaw bone will begin to shrink. The movement and friction of the denture will also irritate the surrounding gum, causing pain and discomfort.
How Advanced Periodontics & Implant Dentistry Can Help!
Now that you know the difference between the two, you may be wondering which option is best for you? When deciding between dentures and dental bridges it is important to keep in mind every aspect of the procedure and how it will affect your everyday life. Our experienced specialists at Advanced Periodontics & Implant Dentistry realize that there are several options for replacing missing teeth and strive to provide the best option.
When consulting with our patients, we take impressions of the mouth to better evaluate which treatment option is best. We offer both dental bridges as well as partial dentures to replace missing teeth; however, we advise our patients to consider the highly advanced dental implant procedure. This is the most secure option for replacing missing teeth, with a solid foundation of bone that keeps it stable, it resists the forces of biting and chewing. An advantage of this option is that, unlike dental bridges and dentures, the surrounding teeth will not be adversely affected. The dental implant replaces the natural root of the tooth with an implant inserted into the jaw bone; causing no need for grinding or shaving of adjacent teeth. Once the implant is inserted, an abutment is attached to the implant with a secured crown.
Dental implants have the look and feel of natural teeth and are proven to outlast other replacement options. If you would like to consult with one of our highly experienced periodontists, visit one of our three convenient locations in New York City, Long Island and New Jersey. We can be reached by phone at (877) 447-6768.